The ORBERA™ Gastric Balloon is a non-surgical procedure for patients who have tried to lose weight with diet, exercise and other programs, but have been unable to lose weight or unable to maintain weight loss.
About the Gastric Balloon
The insertion of the ORBERA™ Gastric Balloon is non-surgical, requiring no abdominal incisions, and is performed on an outpatient basis. Dr. Snow utilizes the guidance of a camera approximately the size of an index finger to pass the deflated balloon into the stomach and then fill it with saline solution. Once filled with fluid, the Gastric Balloon is approximately five to six inches in diameter and serves to occupy a large portion of the stomach. Having the balloon inside the stomach leads to the feeling of "fullness" after only eating a small amount of food. The ORBERA™ Gastric Balloon is removed six months later, and the patient will receive an additional six months of medically-supervised weight loss support.
Benefits of the ORBERA™ Gastric Balloon
Requires no incisions
No permanent internal changes are made
Patients who follow a diet and exercise routine with the Gastric Balloon lose, on average, more than 3 times the weight compared to patients who use diet and exercise alone.*
The procedure is accompanied by ongoing support to encourage lifestyle changes that will help patients maintain weight loss
The Gastric Balloon is a temporary device, leaving patients the option of seeking out further weight loss procedures without the need for revision surgery
What Kind of Results Can I Expect?
The Gastric Balloon is a powerful tool to jumpstart weight loss. The average weight loss with the ORBERA™ Gastric Balloon is 20-40 pounds. Most patients lose significant weight in the first three months.*
*results may vary
What to Expect After The Procedure
The Gastric Balloon procedure does not require a hospital stay. Patients may feel slightly nauseated for a brief time after insertion, but most patients are able to return to normal activity within two days.*
*results may vary
Where Do I Go From Here?
The ORBERA™ Gastric Balloon is best suited to patients with a BMI between 30 and 40 who are interested in losing between 20 and 40 pounds. It is ideal for post-baby weight loss, for people preparing for an important event such as a wedding or reunion, and for anyone tired of struggling with fad diets.
Wondering if the Gastric Balloon is Right for You?
To learn more about the Gastric Balloon or other weight loss options, contact us to schedule a consultation or join us for a FREE seminar.
Invest in Your Health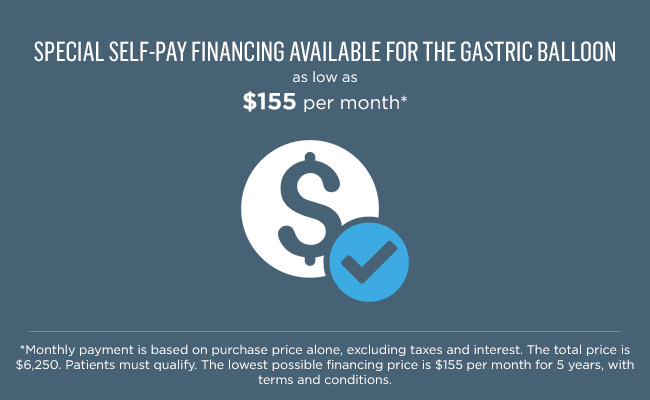 When you invest in the ORBERA® Gastric Balloon, you're investing in a healthier you. The ORBERA® weight loss system is not only proven to show significant results, but we also provide the tools and education to help you keep the weight off.*
Includes:
Procedure Fees
Nutrition Counseling
Balloon Removal
*Individual Results May Vary