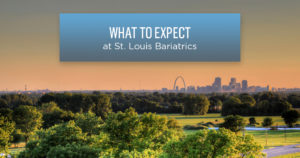 Personal and Private Weight Loss Treatment at St. Louis Bariatrics
At St. Louis Bariatrics, we are dedicated to providing extraordinary patient care in an intimate setting. Dr. Jay Michael Snow treats each patient with compassion and utilizes his expertise to provide a personalized treatment plan that addresses individual needs and goals. Our team of medical professionals focus on patient safety, comfort, and confidentiality.
The Benefits of Choosing St. Louis Bariatrics for Your Weight Loss Surgery
Privacy and Comfort Each patient stays in a private room and family members may also stay overnight.
Experience and Skill Dr. Snow is an award-winning, fellowship trained bariatric surgeon who uses his extensive training to specialize in minimally invasive weight loss surgery.
Personalized Care Patients receive individual attention in a specialized facility.
Emphasis on Safety Dr. Snow operates in four fully integrated surgical suites within an accredited facility with state-of-the-art equipment.
Convenient, Discreet Location Dr. Snow's patients are treated in an exclusive facility, separate from the main hospital and located in a quiet suburb just outside St. Louis.
What to Expect on Surgery Day
We offer a full range of bariatric surgery and non-surgical weight loss options at St. Louis Bariatrics. During your initial consultation, Dr. Snow will help determine which procedure is best for you and answer any questions you may have. Our team will be with you every step of the way throughout your weight loss journey. Click through to learn more about the surgical process and recovery for each procedure:
Gastric Sleeve
Gastric Bypass
Gastric Band
LAP-BAND® Revision Surgery
Non-Surgical Endoscopic Sleeve Gastroplasty
ORBERA™ Gastric Balloon
ReShape™ Dual Weight Loss Balloon
We're Here For You
At St. Louis Bariatrics we would like to be your lifelong partner in health – that means we are here for you whether you are just beginning to consider weight loss procedures, are preparing for your surgery with Dr. Snow, or are building healthy habits after surgery. Feel free to contact us with any questions.