Weight Loss Surgery Can Improve Your Love Life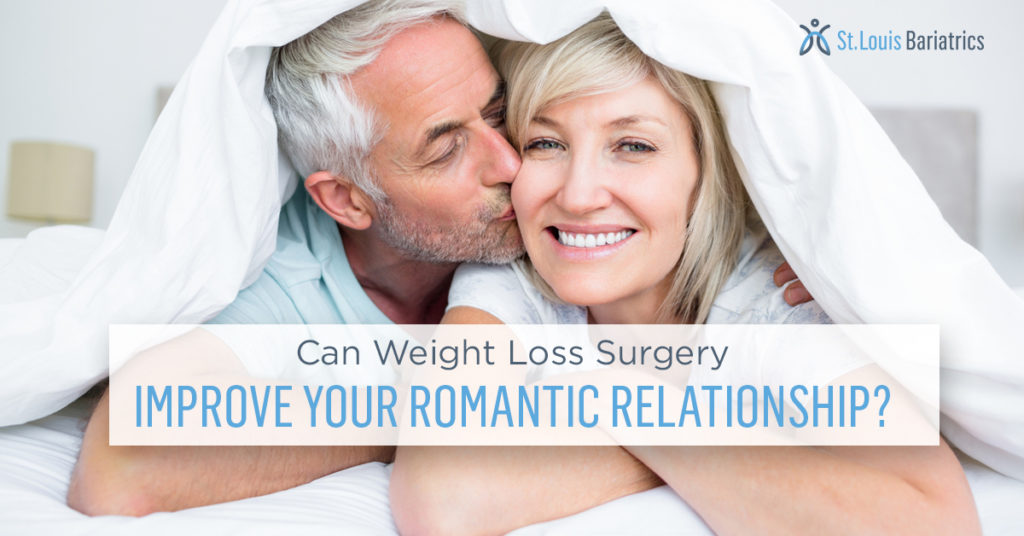 At St. Louis Bariatrics, we have the honor of seeing firsthand the many ways that our patients' lives are improved after bariatric surgery.  Beyond health benefits, such as improvement of diabetes, weight loss surgery may improve overall quality of life. In fact, procedures such as gastric sleeve or gastric bypass may even enhance a patient's love life!
How Bariatric Surgery Can Improve Your Romantic Relationship*
Enhanced Libido and Sexual Function

Medical studies show improved sexual function and increased libido for men and women after weight loss surgery.¹
Improved Confidence

Bariatric patients often report a boost in self-esteem. People who are self-assured and confident are typically more comfortable dating or engaging in romance.

Increased Energy Levels

Weight loss and improved health often lead to a surge in natural energy. Couples who previously fell asleep in front of the television after dinner may find themselves with more stamina to spend quality time together.
The Link Between Weight Loss and Sex Hormones
The human body has complex hormone regulating systems that affect health in numerous ways, and maintaining a healthy weight can help keep these hormonal systems in balance. Hormones play a major part in sexual function and desire. Obesity can negatively affect hormones in a way that leads to sexual dysfunction and decreased libido². Studies show that patients suffering from sexual dysfunction can experience significant improvement after weight loss surgery. Male and female bariatric patients experienced an increase in sex hormones after surgery, including luteinizing hormone, follicle-stimulating hormone, and sex hormone–binding globulin and men experienced an increase in testosterone.¹ Additionally, couples who are trying to conceive can experience improvement in fertility after weight loss surgery.
Tips to Maintain or Improve Your Sex Life After Weight Loss Surgery
Get Active on Dates

Exercise can increase mobility and stamina. Stay fit together with a hike to a romantic picnic spot, a bike ride to your favorite place to watch the sun set, or reignite romance at couples dance lessons.
Meal Plan Together

Meal prep may not sound sexy at first, but if you take the stress out of deciding what to eat for dinner each day, you'll have more time to have fun together! Enjoy cooking healthy foods together,

get our meal planning tips

and

follow us on Facebook

for healthy recipe inspiration.
Rethink The Role of Alcohol

If your date nights have typically featured a bottle of wine, you may be wondering how to kindle romance without clinking glasses. Try relaxing with a massage or hot tub soak instead of a cocktail. For special occasions,

get our tips for healthier alcohol choices

.
Invest In a New Bed

After a significant weight loss, you may need different sleep support and your old mattress may not be as comfortable. A new bed can improve your sleep and revitalize the bedroom.

Go Phone Free

Smartphones can be very helpful after weight loss surgery – there are apps to track calories, count steps, and keep you connected to your weight loss community. Setting some time each week as "phone free" is beneficial to connect with your partner and keep the focus on each other.
Contact Us With Any Weight Loss Questions
Dr. Jay Michael Snow and the team at St. Louis Bariatrics are honored to be your partner in health, and we're here to help you throughout your weight loss journey. Contact us today with any questions about weight loss surgery, or to schedule an appointment.
*Individual Results May Vary
¹ 
Effect of Bariatric Surgery on Sexual Function and Sex Hormone Levels in Obese Patients. Journal of the Endocrine Society 2018;2(2):117-132.
² 
Sarwer DB, Spitzer JC, Wadden TA, Rosen RC, Mitchell JE, Lancaster K, Courcoulas A, Gourash W, Christian NJ. Sexual functioning and sex hormones in men who underwent bariatric surgery. Surg Obes Relat Dis. 2015;11(3):643–651.