Meal Prepping- How To Get Started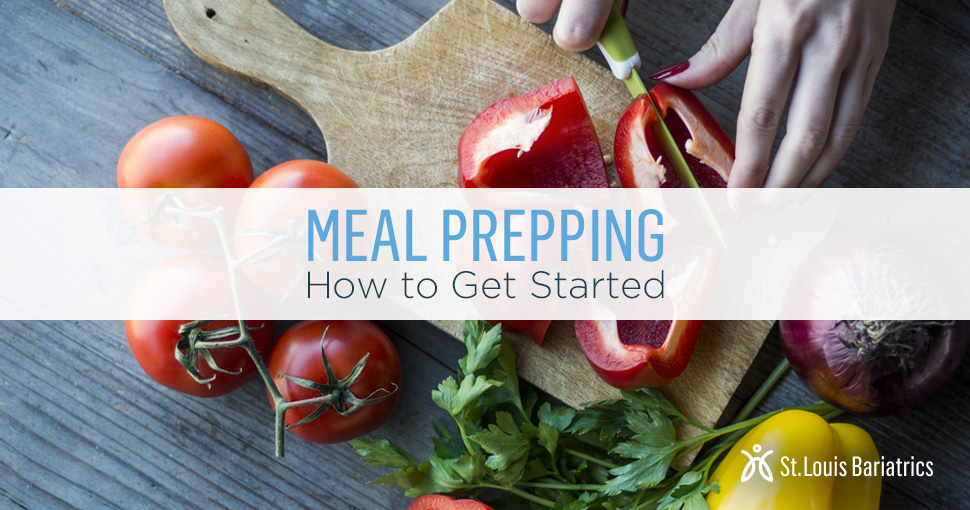 Step 1  PLAN
Deciding what you want to eat ahead of time is the foundation of meal planning and will make life simpler and more efficient. Meal planning for an entire week can be intimidating at first. Instead, start by writing down what you will eat for each breakfast, lunch, dinner, and snack (if needed) for the next 3 to 5 days. After you have written out your meal plan for 3 to 5 days, break the meals down into a list of ingredients. Making a list of ingredients will help make grocery shopping easier!
Step 2  SHOP
After your meal planning is done, it is time to go grocery shopping. Double check your list to make sure it contains all ingredients for your planned meals. If you do not have food storage containers, make sure to pick up some containers of various sizes so you can portion out your meals and pack your lunches. Have a healthy snack before you head to the store so you are not tempted to buy things that are not part of your plan.
Step 3 PREP
There are many ways to prepare food. The great thing about prepping is that you can prepare your meals to suit your lifestyle and to your taste!  Experiment with flavors by using various herbs, spices, and marinades.  Adding a variety of flavors to traditional foods will help keep you from becoming bored with your meals.
Set aside a few hours one day each week to meal prep.  During this time, you will want to
Wash, peel, chop, etc. your fruits and vegetables,

Season and cook your meats

Portion out your food into containers  
Once your meals are put together in your containers, you can freeze them or store them in the fridge!  Having your meals prepped and ready to go will eliminate the stress and confusion of what to eat later in the week!  Another great tip is to cook your protein (chicken, turkey, fish, lean beef, for example) ahead of time and store those in the freezer.  This allows you to prepare a healthy meal on another day in no time!
Additional Tips
Many people find themselves in a hurry and state they have little time to cook one meal at a time, let alone plan and prep 3-5 days at once.  Crockpot meals, overnight oats, and dishes that can be assembled one day and cooked the next day are great options if you often find yourself short on time. Other tips for eating healthy when you do not have enough time to plan and prep meals:
Wake up early to allow yourself enough time to eat breakfast

Prepare or defrost your lunch the night before

Make sure your fruits and vegetables are washed and ready-to-eat at all times.  This will encourage you to eat more fruits and veggies, too.

Prepare your favorite crockpot meals throughout the day so your meal is ready when you get home from a long day of work.
We're Here for you!
At St. Louis Bariatrics, we want to be your lifelong partner in health. If you have questions about nutrition or healthy eating, contact us to schedule an appointment with our Dietitian. You can also follow us on Facebook where we post healthy recipes, motivational tips and more.