Serena's Story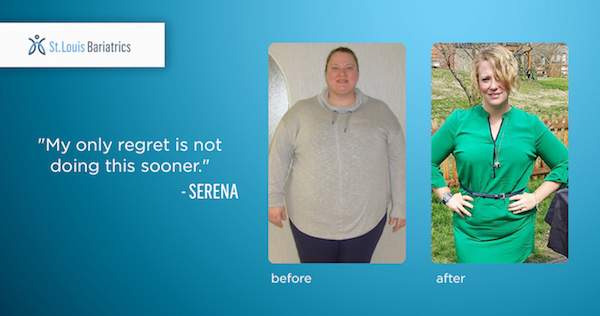 Dr. Snow and the team at St. Louis Bariatrics help patients meet their weight loss goals. We are proud of everyone who takes the first step toward better health and we are honored when our patients choose to share their stories with our community. Patients are not compensated for sharing their stories. This is a personal story from an actual patient of St. Louis Bariatrics and not necessarily representative of a typical experience. Individual results may vary.
Serena wanted to start a family, but suspected that obesity was negatively affecting her fertility. She struggled with her weight throughout her life, despite being physically active and mindful of nutrition. She tried various diets and programs such as Weight Watchers and Jenny Craig, and succeeded in losing weight, but would always gain it back. She knew she needed a permanent solution in order to fulfill her dream of starting a family and living a healthy life.
When Serena first looked into weight loss surgery several years ago, the gastric bypass and gastric band seemed to be the most widely available surgeries, but she didn't feel that either of those procedures was right for her. After more failed attempts to keep weight off through diet and exercise, she once again began considering bariatric surgery. By this time, the gastric sleeve, or vertical sleeve gastrectomy, was more widely available. Serena was diligent in her research of different procedures and bariatric surgeons, and decided that the gastric sleeve was right for her because it would restrict the amount of food she could eat without inserting any devices or rerouting the digestive system. She chose Dr. Snow, and once she met with him and was impressed with his knowledge and his friendly demeanor, she knew she made the right choice.
Serena underwent the gastric sleeve procedure at St. Louis Bariatrics in March of 2015. One year after her surgery, she had lost over 100 pounds and successfully completed a half marathon! Not only did she use the gastric sleeve as a tool to pursue a healthier and more active life, but she also put in a lot of hard work to change her habits. Once an emotional eater, Serena found new coping mechanisms to avoid overeating during times of stress. She replaced her former habit of eating for emotional comfort with activities such as coloring books for adults, crafting, crocheting, and exercise.
In November of 2017 Serena and her husband welcomed a healthy and beautiful baby girl to their family. Serena had a healthy pregnancy and delivery with no gestational diabetes or complications. She continued to run and exercise up until her delivery and she looks forward to being a healthy role model for her daughter.
Today, Serena says that her only regret is not having weight loss surgery earlier. Although she doesn't regret taking time to research the best procedure and surgeon for her, she does admit that the stigma around bariatric surgery was a concern that may have held her back. Some people still see weight loss surgery as an "easy way out", despite the many health benefits it offers and the amount of effort that bariatric patients put into developing new lifestyle habits. Serena has a new outlook on life and now says, "People will judge me for having surgery, but they would also judge me for being overweight, so I had to do what I knew was best for me." She has also found a lot of support in the strong weight loss surgery community on social media. She advises anyone considering weight loss surgery to do their research and commit to being 100% focused on health after the procedure, especially for the first year after surgery, because that time is critical for developing new habits.
The team at St. Louis Bariatrics is so proud of Serena and thrilled to congratulate her on the birth of her daughter!
Read More About The Effects of Obesity on Fertility
Get Our Guidelines for a Healthy Pregnancy After Weight Loss Surgery
View Our Patient Gallery to See More Weight Loss Transformations