What's New on the Nutrition Label?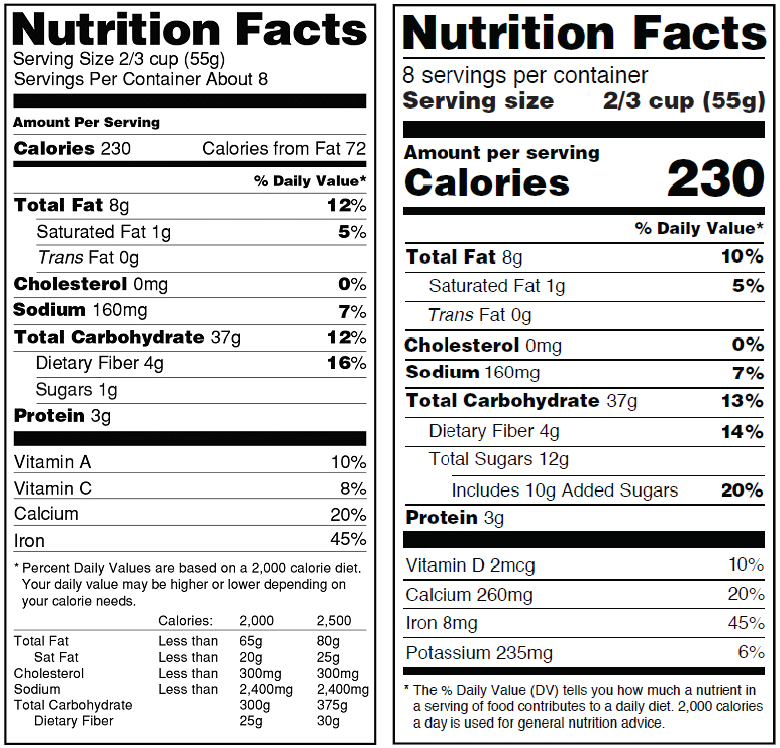 Within the last couple of years, have you noticed anything different about the nutrition label on food products?  If not, read this to learn what's changed!
First off, you can see that some of the text is BIGGER!  That includes the calories, servings per container, and the serving size.  It makes that information a lot clearer, doesn't it?  Also, Vitamins A and C, which were previously required to be listed at the bottom of the label, have been swapped with Vitamin D and potassium.  This is because Vitamin D and potassium are nutrients Americans are now more commonly deficient in, whereas Vitamin A and C deficiencies aren't as present within the general population these days.  Not sure how much of those nutrients you're actually getting from the percent Daily Values?  The new label also includes the gram amounts!  For most people, looking at the grams of different nutrients serves as a better way to quantify how much they're eating.  Along with that, "Calories from Fat" has been removed so that Americans are focusing on the gram amounts for different types of fat like total fat, saturated fat, and trans fat instead
According to the 2015-2020 Dietary Guidelines, consuming more than 10 percent of your total daily calories from added sugar makes it hard for Americans to meet other nutrient needs.  To help make consumers more aware, the label now displays "added sugars" right below sugar content so that consumers can better monitor their intake of sugars being added during the processing of foods.  Percent daily values of other nutrients, like sodium and dietary fiber, have been updated based on newer scientific evidence to better reflect how much of that nutrient they're consuming in relation to the recommended total daily diet
Last, serving sizes have been updated on products to better reflect what Americans actually eat.  Have you ever split up a 20 oz bottle of soda or a 15 oz can of soup into multiple servings?  Most Americans do not.  The label will now reflect the nutrition information for the entire package, making us more aware of how much we're actually consuming which could lead to making more healthful choices.
Manufacturers have until July 26,2018 to comply with these requirements, so until then, there may be some labels that have not yet been updated.  Any manufacturers that make less than $10 million a year in food sales will have until 2019.
Reference: U.S. Food and Drug Administration, 2017.  Changes to the Nutrition Facts Label.