Stephanie's Weight Loss Surgery Transformation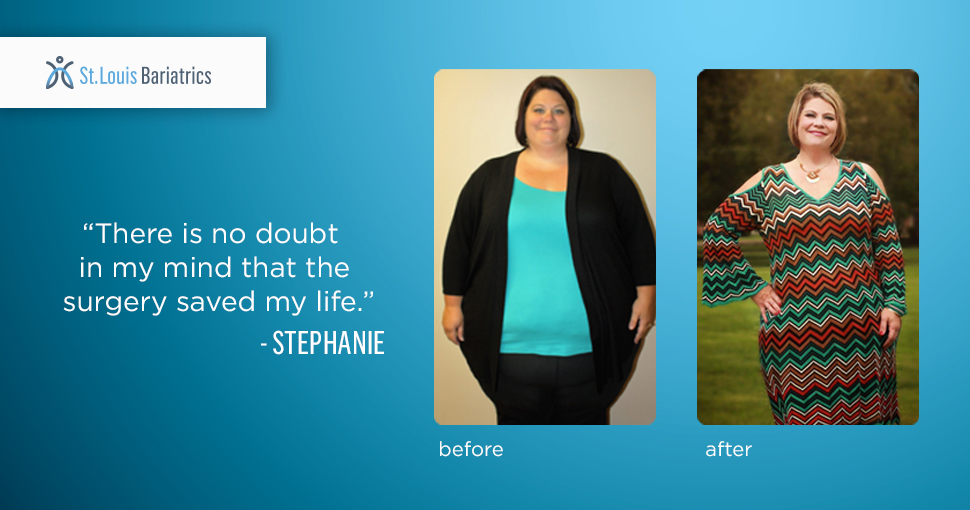 Dr. Snow and the team at St. Louis Bariatrics are dedicated to helping patients live healthier and more active lives. We are proud of everyone who takes the first step toward better health and we are honored when our patients choose to share their stories with our community. This is a personal story of one of our patients, and not necessarily representative of a typical experience. Individual results may vary.
Stephanie tried every diet and weight loss program available and sought treatment from several doctors, but was unable to lose weight despite her efforts. She had been overweight her entire life, but when her weight reached a high of 492 lbs. she began to feel out of control. Stephanie is a mom to 3 great kids, and she was discouraged by how many activities were not possible because of her size. She didn't feel comfortable going to the movies or attending sporting events because the seats weren't able to accommodate her. When she reached her highest weight, she had trouble with everyday activities like shopping and tying her shoes and she was desperate to find an effective solution that would enable her to live a healthier life for her family.
Stephanie's father had also struggled with his weight. He had gastric bypass with Dr. Snow and Stephanie saw how happy he was with his experience. Although she was glad to see her dad doing so well, Stephanie was still skeptical that weight loss surgery could be the answer for her. Complicating things more, she also didn't have health insurance that would cover weight loss surgery. Determined to change, and encouraged by her dad's success, Stephanie scheduled an appointment with Dr. Snow. She found a self-pay option that worked for her and had gastric sleeve surgery with Dr. Snow in June of 2016.
Today Stephanie is able to take her kids to the movies and she also enjoys a newfound confidence in herself. She says that her weight loss journey is still in progress, but at a current weight of 269, she has already made amazing strides toward a healthier and more active life.
When asked about her success in losing over 200 lbs, Stephanie credits her dedication to following Dr. Snow's guidelines and also emphasizes the importance of having a supportive team behind her, saying that "a support system is vital." For Stephanie, her closest source of support is her father, who has been her weight loss role model. Stephanie is also grateful to Dr. Snow for his impact on her success. She says that Dr. Snow's personable bedside manner helped her feel confident in her decision to get surgery, and that his ongoing support has been key to her weight loss. She values that he takes time to set personalized goals for each patient, and she says, "I know that if I need anything he is there, and I think that choosing the right doctor is vital to success."
Stephanie's advice to those considering weight loss surgery is to be motivated and understand that weight loss surgery is a tool. It is up to the patient to stay on track. She is living a healthy, active lifestyle now, but Stephanie understands more than anyone how frustrating continued attempts at weight loss can be and she says "There is no doubt in my mind that the surgery saved my life."
View Stephanie's transformation here or view our patient gallery here