Slow Cooker Meal: Lemon Garlic Chicken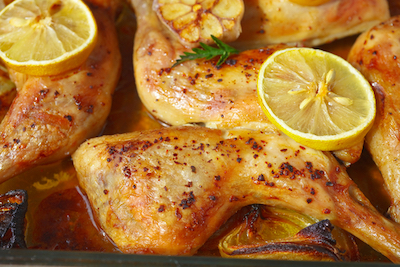 Ingredients:
3 pounds boneless, skinless chicken breast
2 lemons
8 cloves of garlic
4 sprigs of fresh rosemary
Salt and pepper, to taste
Directions:
Season chicken with salt and pepper.
Remove the ends of the lemons and cut into very thick slices to total 4 slices from each lemon.
In the bottom of a 7 quart slow cooker, place 4 lemon slices, 4 cloves of garlic, and 2 sprigs of rosemary.
Place chicken in the slow cooker next.
Place the remaining 4 garlic cloves, 4 lemon slices, and 2 sprigs of rosemary on top of the chicken.
Put the lid on the slow cooker and set to high heat for 4 hours or low heat for 6-7 hours.
Allow chicken to rest for 10 minutes and serve with healthful quick sides such as steamed broccoli.