Shrimp & Zucchini Pasta with Cherry Tomato Basil Sauce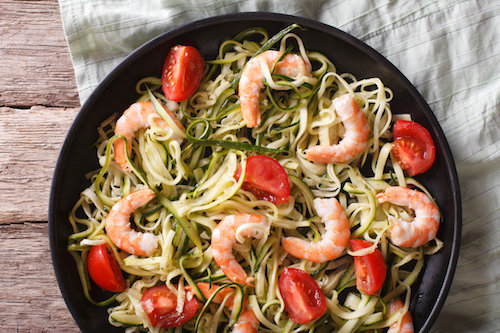 Ingredients
1 pound of small/medium sized shrimp, peeled, deveined, and tail off
4 cups of cherry tomatoes
1/3 cup sun-dried tomatoes packed in oil
1 cup fresh basil, freshly chopped or dried
1 clove garlic, minced or grated
Juice of 1 lemon (or approximately 2 Tbsp)
Pinch of crushed red pepper flakes
4 medium size zucchinis
4 tablespoons olive oil
Salt and pepper to taste
4 ounces freshly grated parmesan cheese
Directions
Finely chop/mince 2 cups of cherry tomatoes and add them to a bowl. Add the sun-dried tomatoes (do not drain all the oil), basil, garlic, lemon juice and crushed red pepper flakes. Season with salt and pepper to your liking. Set aside and allow to sit at least 10 minutes.
Heat a large skillet with 1 tbsp olive oil over medium-high heat.  Sauté shrimp, about 2-3 minutes per side or until an internal temperature of 145° F is reached. Transfer shrimp to a bowl and set aside.
Using a spiralizer, spiralize the zucchini and use the same skillet to cook and stir zucchini for about 2 minutes, until hot and slightly softened. Pour into a strainer to drain excess liquid.
Add zucchini noodles, shrimp, and tomato mixture to skillet. Add the olive oil and a pinch of salt and pepper. Toss well to heat ingredients through.
Portion out a serving of pasta into a small bowl. Top each portion with tomato sauce. Sprinkle with parmesan and basil as desired and enjoy!