Savory Oatmeal With Over-Easy Egg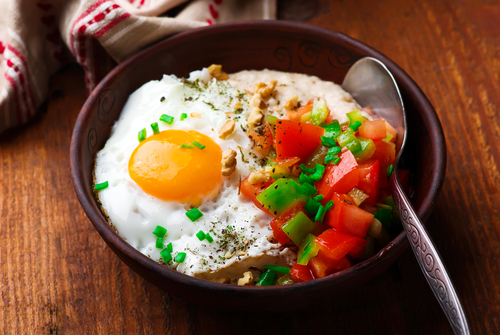 Ingredients
¼ cup quick cooking steel cut oats
¾ cup water
2 Tbsp fat free/reduced fat shredded cheddar
1 tsp olive oil
¼ cup diced red peppers
¼ cup diced zucchini
2 Tbsp finely chopped onions
1 large egg
Salt and pepper to taste
Green onions to garnish, if desired
Directions
Prepare oatmeal according to stove top or microwave directions on package. When the oatmeal is done, stir in shredded cheddar and desired amounts of salt and pepper.
Heat a small skillet with ½ tsp olive oil over medium-high heat. Add vegetables and cook for 2-3 minutes or until soft and add to oatmeal. Reduce heat to medium.
Add remaining ½ tsp of oil to pan and crack egg into skillet. Cook until egg whites are no longer translucent and serve over oatmeal. Garnish with green onions, if desired, and serve.