Healthy Fall Dessert Recipes
We have recipes to fall for this season! Get creative and satisfy your sweet tooth with these healthy dessert alternatives.
Ghostly Banana Pops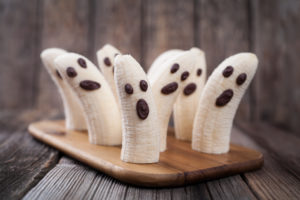 Ingredients
6 popsicle sticks
3 bananas, halved
1-2 cups vanilla greek yogurt
¼ cup mini chocolate chips
Instructions
Insert popsicle sticks into the flat side of the halved bananas and freeze for 2 hours
Take out of the freezer and dip frozen bananas in vanilla greek yogurt.
Add mini chocolate chips for the eyes, nose, and mouth and freeze again at least 15 minutes or until ready to serve.
Serves 6
Caramel Apple Dip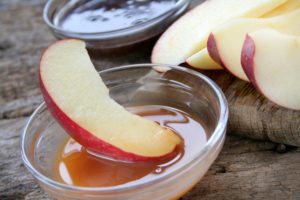 Ingredients
5 oz caramel pieces
¼ cup water
8 ounces light/reduced fat cream cheese, softened
⅓ cup brown sugar substitute
½ cup protein powder
Directions
Place caramels in small saucepan with water. Heat over medium-low heat until melted, stirring frequently. Remove from heat.
Mix together cream cheese, brown sugar and protein powder. Stir in caramel mixture and mix well.
Serve immediately or refrigerate.
Tip: Try with a variety of fruits including apple slices, grapes, banana slices, strawberries and pineapple
Pumpkin Mousse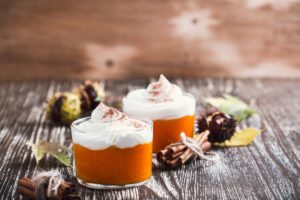 Ingredients
1 pkg. instant sugar free vanilla pudding (6 servings)
3 cups skim milk
½ cup canned pumpkin puree
1 tsp pumpkin pie spice
1 cup plain yogurt
1 tsp vanilla extract
Light Cool Whip, ground cinnamon, and 6 cinnamon sticks to garnish
Directions
In a large bowl, add pudding mix and skim milk, beating for approximately two minutes before folding in the rest of the ingredients above. Spoon into serving cups of choice, add a dollop of Cool Whip, sprinkle some cinnamon on top and place cinnamon stick halfway in the mousse towards the edge of the cup
Serves 6
Tip: Try a dollop of whipped cream and crumbled ginger snaps as an alternative garnish!