Cloud Eggs
Ingredients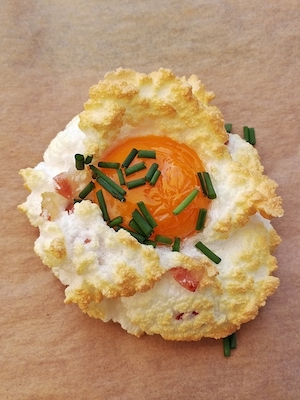 2 eggs
¼ cup chopped spinach
¼ cup turkey bacon, cooked and crumbled
¼ cup grated parmesan cheese
Black pepper to taste
Directions
Preheat the oven to 450 and line a small to medium size baking sheet with parchment paper.
Separate the egg whites from the yolks by putting the egg whites in a chilled bowl and placing each yolk in their own ramekin.
Whisk the 2 egg whites until stiff peaks form. You can also use an electric or hand mixer, starting on low speed and increasing until stiff peaks form.
Fold in the spinach, turkey bacon, cheese, and pepper with a rubber spatula.
Use the same spatula to dish out half of the mixture onto the prepared sheet pan, doing the same for the remaining half.
With the spatula, create a small indentation in each mixture and place in the oven for 3 minutes.
Add one egg yolk to each cloud, and bake for another 3 minutes.
Serve and enjoy!