BLT Stuffed Avocados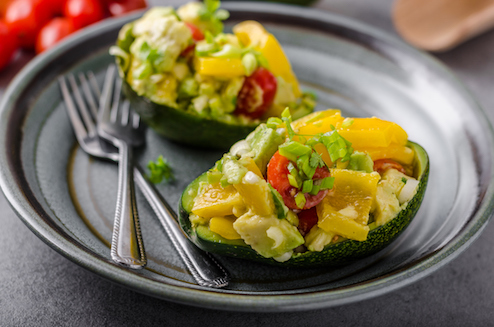 Ingredients
2 medium avocados
4 slices turkey bacon
½ cup plain Greek yogurt
1/2 cup cherry tomatoes, halved
1/2 cup romaine lettuce, chopped
1 tsp lime juice
1/4 tsp garlic powder
Salt and pepper to taste
Directions
Heat a small skillet over medium high heat. Cook the bacon over low or medium-low heat until the edges start to curl. Flip and continue cooking until golden and crispy. Drain on paper towels. When cool enough to handle, chop up into bite size pieces
Meanwhile, slice the avocados in half and remove the pits. Scoop out each avocado and transfer to a cutting board. Dice into ½ in cubes.
In a bowl, gently mix together the Greek yogurt, avocado, bacon, cherry tomatoes, lettuce, lime juice, garlic powder, sea salt, and black pepper.
Scoop the mixture back into the avocado halves and enjoy!