Baked Eggplant Parmesan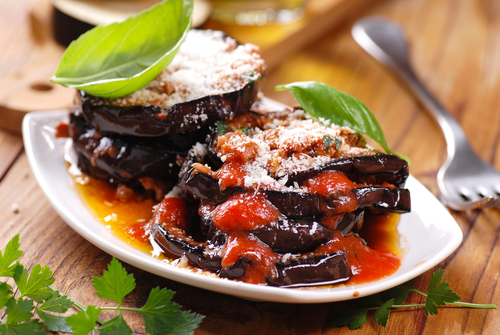 Ingredients
2 large eggs
3/4 cup plain dry breadcrumbs
3/4 cup finely grated low-fat Parmesan
1 teaspoon dried oregano
1/2 teaspoon dried basil
Coarse salt and ground pepper
2 large eggplants, sliced into 1/2-inch rounds
4 cups (32 ounces) store-bought chunky tomato sauce
1 1/2 cups shredded low-fat mozzarella
Directions
Preheat oven to 375 degrees. Brush 2 baking sheets with olive oil and set aside. In a shallow bowl, whisk together eggs and 2 tablespoons water. In another bowl, combine breadcrumbs, 3/4 cup Parmesan, oregano, and basil; season with salt and pepper.
Dip eggplant slices in egg mixture, then coat with breadcrumb mixture.  Place on baking sheets. Bake until golden brown on bottom, 20 to 25 minutes. Flip and continue baking for another 20-25 minutes. Remove from oven and increase oven heat to 400 degrees.
Cover each slice with sauce and mozzarella, distributing evenly.  Sprinkle Parmesan cheese on each. Bake until sauce is bubbling and cheese is melted, 15 to 20 minutes. Let stand 5 minutes before serving.