Apple Crisp Oatmeal Squares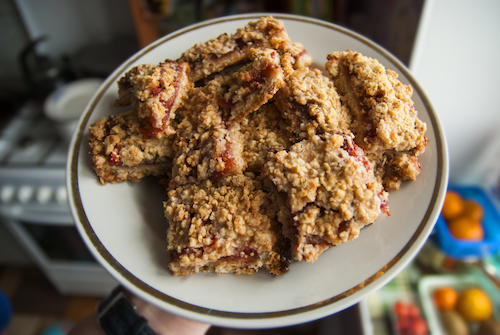 Ingredients
¾ cup oat flour
2 ¼ cup rolled oats (quick cooking or old fashioned)
¼ cup sugar substitute
4 Tbsp canola oil
3 small apples of your choice, thinly sliced
1 cup skim milk
2 large ripe bananas, mashed
4 Tbsp sugar-free maple syrup
Directions
Preheat oven to 180° F and lightly grease a 13 x 9 baking dish.
In a large mixing bowl, add 2 cups of rolled oats and milk. Let soak. In the meantime, mash your bananas until there are little or no lumps. Add mashed bananas and sugar free maple syrup into same mixing bowl. Mix well and set aside. This will be your oatmeal base. Pour into baking dish and smooth.
Arrange the sliced apples on top of the oatmeal base and gently press down into the base.
For the topping, In a medium sized mixing bowl, combine oat flour, remaining ¼ cup rolled oats, sugar substitute. Add in oil and stir until mixture is evenly moist. Pour topping over the apples to cover completely and smooth over.
Bake for 40-45 minutes or until the top is a light golden brown. Let cool for 5-10 minutes before slicing into squares and enjoy!
Keep leftovers covered in the fridge for a week or freeze them individually for a few months.