10 Tips for Healthy Holidays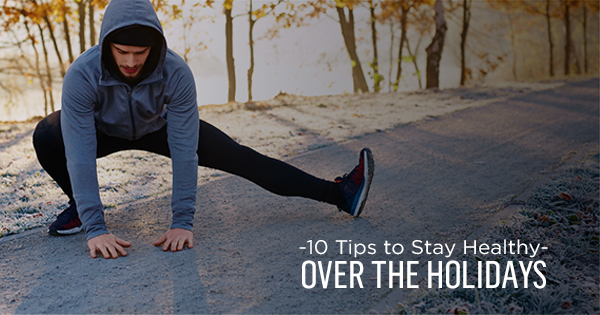 Ten Healthy Holiday Tips 
The holiday season can be a challenging and stressful time for weight loss and weight maintenance. Remember – it is all about creating healthy habits rather than restrictions! Here are 10 tips to help you stay on track throughout the upcoming holiday season.
Bring a healthy dish to your family gathering. Now you know there will be something for you to enjoy without guilt.
Sit far away from the kitchen or food tables. If the food is "out of sight", chances are it will also be "out of mind". This helps prevent you from unconscious snacking.
Eat protein foods first. Fill up on a lean source of protein like turkey, chicken, pork loin, or whatever your traditional family meal consists of! Eating protein first will satisfy your hunger and help you save calories.
Socialize. Focus on family and friends, not the food items.
Don't arrive to a holiday party hungry. Have a small, protein rich snack before arriving to a party. This habit can help you control portions and avoid overeating when mealtime rolls around.
Maintain your daily exercise routine. The holiday season keeps many of us busy and in a hurry. Be sure to keep up with your daily exercise and incorporate ways to increase activity – walk an extra lap around the mall, park your car further away, take the stairs, etc. Perhaps start a new tradition with your family that involves walking or playing a sport after dinner.
Chew slowly. This helps you recognize when you begin to feel full.
Be realistic. If you indulge on one of your favorite holiday treats, get right back on track. Keep moving forward and stay positive.
Avoid drinking your calories. Alcohol can contribute to dehydration and the calories quickly add up.
Prepare healthy holiday cooking. Don't be afraid to try new, healthy variations of your favorite dishes! The internet is full of delicious recipes. Here are a few alternatives you may enjoy:
Mashed potatoes: use skim milk, chicken broth, garlic and parmesan cheese instead of whole milk and butter
Gravy: refrigerate the gravy to solidify the fat. Once hardened, remove all visible fat.
Green bean casserole: prepare fresh or frozen green beans with diced potatoes instead of cream soup. Top the green beans with sliced almonds instead of French fried onions.
Healthy holiday nog: blend together 4 bananas, 1.5 cups skim milk, 1.5 cups plain nonfat yogurt, and ¼ teaspoon rum extract. Top your beverage with a sprinkle of nutmeg. (serves 8)
The team at St. Louis Bariatrics wishes you and your family a happy and healthy holiday season! We're honored to be your partner in health. Contact us to schedule an appointment.