Obesity and the Cost of Diabetes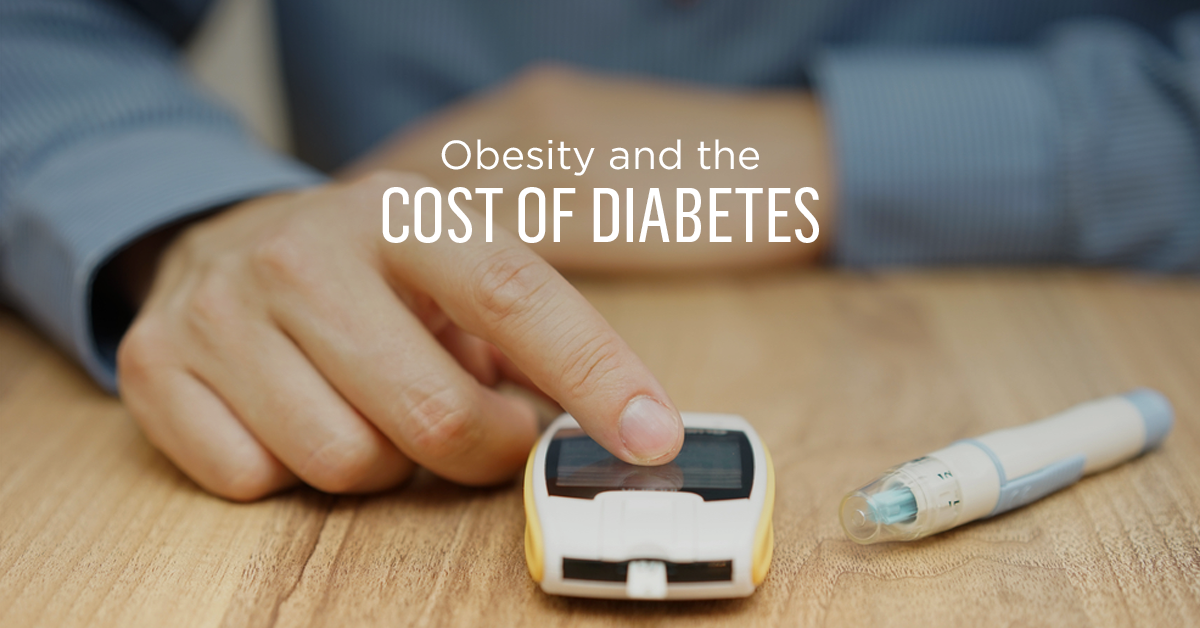 The Cost of Obesity
Weight loss surgery has been shown to improve or cure type 2 diabetes. People suffering with obesity and Type 2 diabetes may consider weight loss surgery, but have concerns about the cost of a bariatric procedure. However, when comparing the cost of bariatric surgery to the costs associated with treating diabetes, weight loss surgery is an affordable, effective, and potentially life saving option for long term weight loss. In fact, many insurance plans cover the cost of weight loss surgery, and financing is available for self-pay patients. When considering the financial and personal effects of obesity over a lifetime, the cost of weight loss surgery could end up being favorable to the expenses resulting from sickness, dieting, or missing out on work and family. One study took into account various costs associated with being overweight in America and found the annual cost of obesity per person is roughly $4,879 for a woman and $2,646 for an obese man1.
The Cost of Type 2 Diabetes
People who are overweight or obese are at a higher risk for developing type 2 diabetes and are affected by greater healthcare costs2. Diabetes can cause serious complications including heart disease and stroke, blindness, kidney failure, and lower-limb amputation.
A wide range of studies show that type 2 diabetes is a costly disease to treat. According to the American Diabetes Association, the medical cost of type 2 diabetes per person can reach up to $13,700 per year. People diagnosed with diabetes, on average, have medical expenditures approximately 2.3 times higher than those without diabetes. In 2012 in the United States, the economic cost of treating diabetes was $245 billion, including $176 billion in direct medical costs and $69 billion in reduced productivity3.
Diabetes can be treated and managed by diet, regular physical activity, and medications to lower blood glucose levels. For some individuals, bariatric surgery and an accompanying lifestyle change may be an option to reduce blood glucose levels. Up to 80% of Gastric Sleeve patients experience improvement or remission of Type 2 Diabetes. From a financial perspective, weight loss surgery may also be a cost effective treatment for diabetes. Furthermore, it can be a crucial tool for the prevention of diabetes4. The Cleveland Clinic also found that obese non-diabetic patients who lost weight following gastric bypass decreased their likelihood of developing diabetes by 60 percent5.
Annual Costs of Obesity for Men and Women with Type 2 Diabetes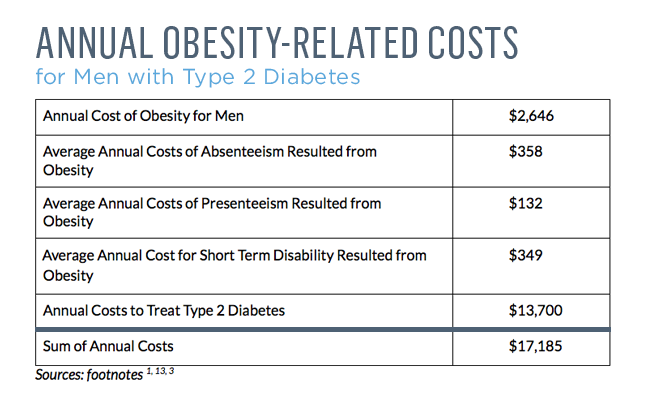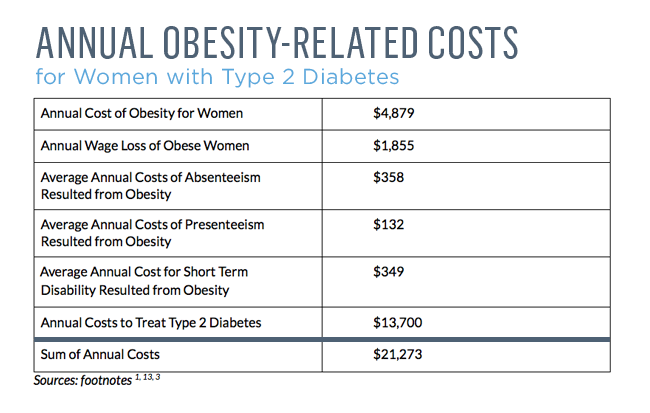 Ready to Change Your Life? Contact Us for a Free Insurance Check
We have helped many people greatly reduce their diabetes symptoms and find long term weight loss. When considering all the costs associated with obesity and diabetes, weight loss surgery might be the best choice, especially because many insurance companies cover the procedure. If you would like to know more about the cost of weight loss surgery and learn if your insurance covers the procedure, contact us.
1 http://citeseerx.ist.psu.edu/viewdoc/download?doi=10.1.1.173.3487&rep=rep1&type=pdf
2 http://www.nhs.uk/Conditions/Diabetes-type2/Pages/Causes.aspx
3 http://www.diabetes.org/advocacy/news-events/cost-of-diabetes.html
4 https://www.diabetes.org.uk/About_us/News/Surgery-must-be-recognised-as-treatment-option-for-Type-2-diabetes/
5 http://my.clevelandclinic.org/ccf/media/files/Bariatric_Surgery/bariatric_surgery_cure_type2_diabetes.pdf