Protein-Packed Breakfast Burritos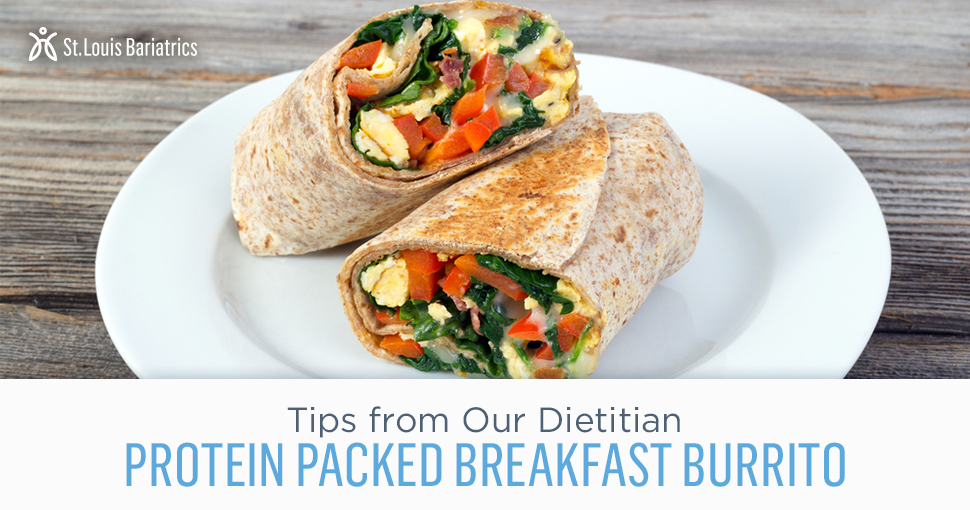 This recipe is great for making ahead. It is freezer friendly and provides a healthy, on-the-go meal for breakfast, lunch, or dinner!
Ingredients:
6 small, whole wheat tortillas
3 medium sweet potatoes
1 (15 oz) can black beans, rinsed and drained
¼ teaspoon cumin
¼ teaspoon chili powder
few dashes of red pepper flakes or diced jalapeno (if desired)
8 large egg whites
1 avocado, diced
1 handful fresh spinach
1 small tomato, diced
½ cup reduced fat, shredded cheese
1/3 cup red enchilada sauce (or salsa)
Instructions:
Cook your sweet potatoes: Pierce sweet potatoes with fork a few times. Place in microwave and cook on high for 4-6 minutes or until cooked though. This may take up to 10 minutes depending on how thick your sweet potatoes are.
Or, you may roast them in the oven at 400 degrees for 45 minutes. Once sweet potatoes are cooked, remove the skins and place potatoes in a medium bowl. Mash with a fork; set aside.
In a separate bowl, add black beans, cumin, chili powder and red pepper flakes or jalapenos (if desired). Stir to combine then set aside.
In another bowl, beat egg whites together. Spray a skillet with nonstick cooking spray and place over medium-low heat. Add in egg whites and cook slowly. Fold eggs every few minutes. Once cooked, remove eggs from heat.
To assemble burritos, it helps if you have warm tortillas…they are much easier to roll. You can warm them up for 10-20 seconds in the microwave before assembling.
Lay out warm tortillas and evenly distribute and spread mashed sweet potato on each. Evenly distribute egg whites, diced avocado, black beans, and shredded cheese on each tortilla. Next, drizzle a spoonful of enchilada sauce (or salsa) onto each burrito. Lastly, fold in the sides of the tortilla and roll up the burrito.
To reheat: Place burritos on baking sheet in oven at 300 degrees for 5-10 minutes or simply microwave them for a minute or two. Serve with plain greek yogurt, salsa, or hot sauce.
Freezer tips: Wrap burritos individually in freezer paper. Use a permanent marker to write on the burrito wrapper to indicate what the food is and include the date it was prepared.