Cauliflower Potato Salad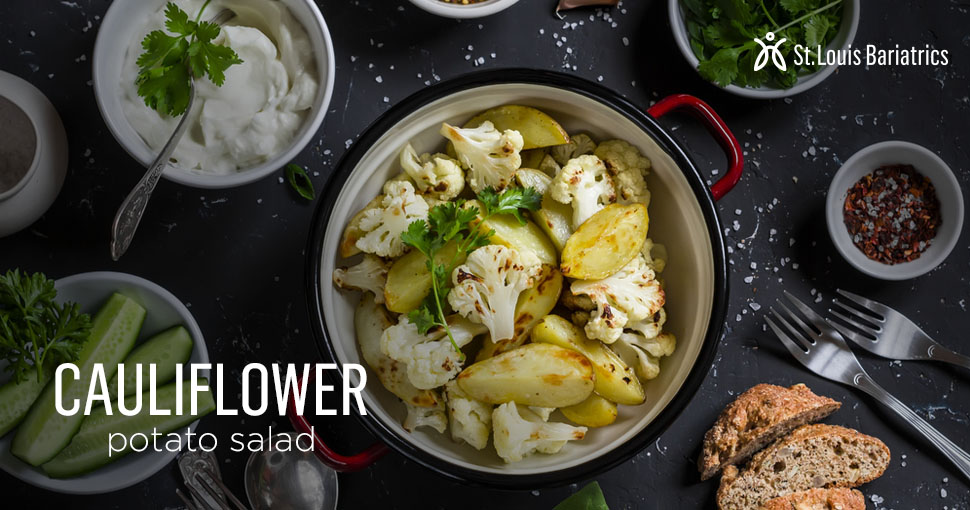 Ingredients:
1 Large Head Cauliflower
½ Cup Potato
2 Hardboiled Eggs
⅓ Cup Mayonnaise
1 TBSP Mustard
1 TBSP Dill Relish
2 TSP Diced Onion
1 TSP Fresh Dill
1 TSP Chopped Chives
1 TSP Vinegar
½ TSP Salt
½ TSP Black Pepper
½ TSP Paprika
Directions:
Bring water to a boil in a large pot. Cut the cauliflower and potato into bite-sized pieces and add to boiling water. Cook just until tender, making sure not to overcook or salad will be mushy. Drain and place in a large bowl.

Chop hardboiled eggs and add to cauliflower/potato mixture.

In a small bowl, combine mayonnaise, mustard, relish, onion, dill, chives, vinegar, salt and pepper to form the salad dressing.

Fold the dressing into the cauliflower mixture until well coated. Sprinkle with paprika.

Refrigerate for at least 1 hour and enjoy!