Bariatric Friendly Gumbo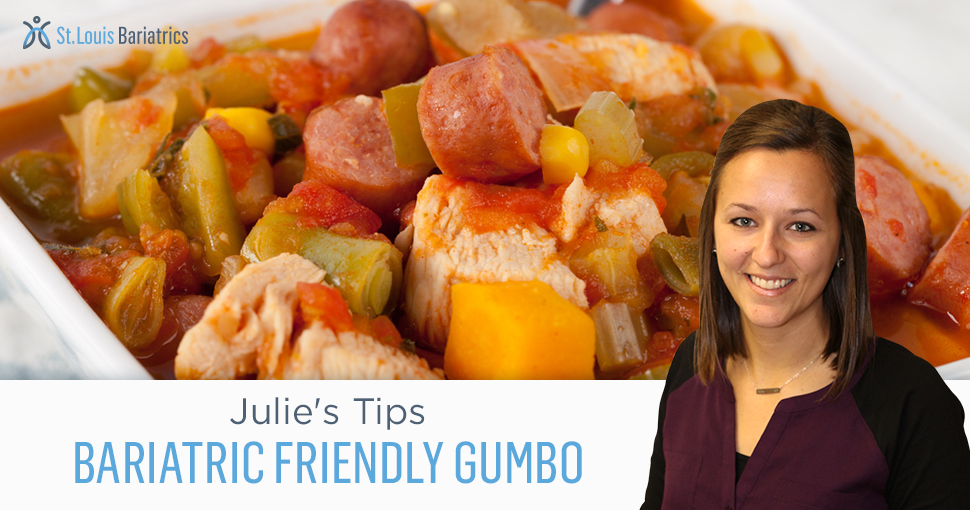 Ingredients:
2 (14.5 ounce) cans stewed tomatoes, undrained
1 small can of tomato paste
1 pound skinless, boneless chicken breasts, trimmed of fat and diced
1 large turkey kielbasa sausage link, diced
1 bag frozen medium shrimp, thawed, tails removed and diced
1 green pepper, chopped
1 large onion, chopped
2 stalks celery, chopped
1 tablespoon Cajun seasoning
3 cloves garlic, minced
¼ teaspoon ground black pepper
¼ teaspoon cayenne pepper
Instructions:
Add tomatoes, tomato paste and raw chicken breasts to a large stockpot. Cook on medium high until chicken is cooked through.
Add turkey sausage, shrimp, green pepper, onion, celery, Cajun seasoning, garlic, black pepper, and cayenne pepper to the pot. Stir gently to combine all the ingredients.
Cover and simmer for about 20 minutes. Let cool slightly and serve.