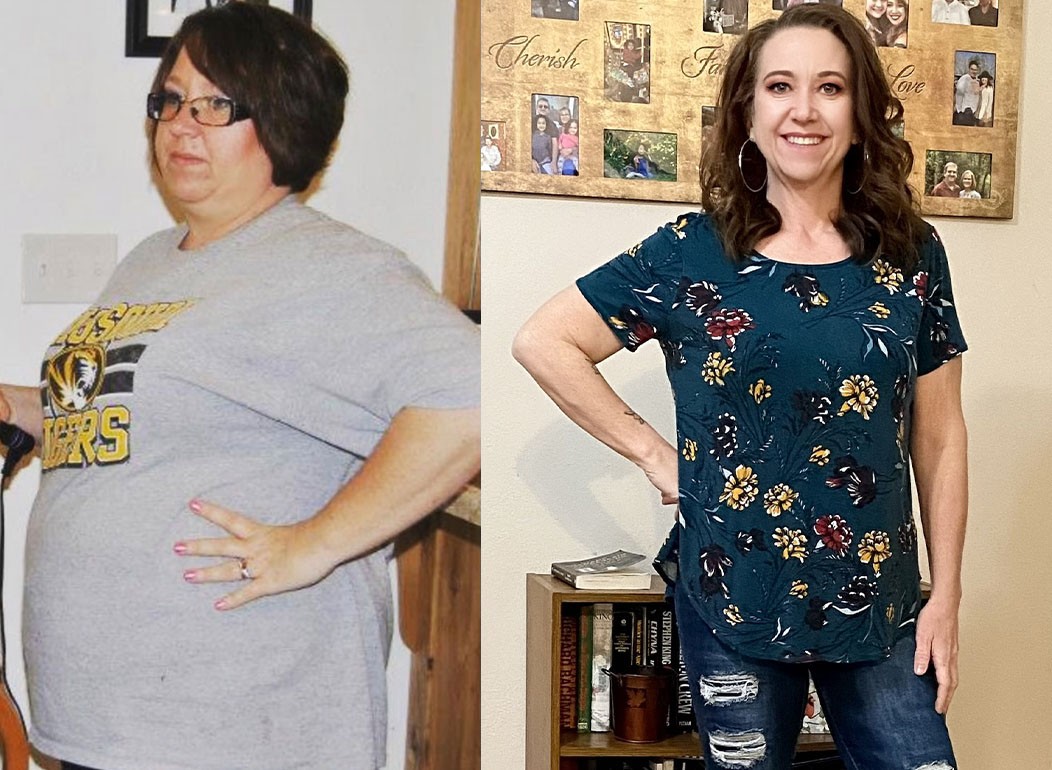 Procedure: Gastric Sleeve*
Total Weight Loss: 135 pounds
*Results may vary
I have fought a losing battle with obesity my entire adult life. Most of my 40 years were spent Following Fad diet after a fad diet with no or minimal success. Over the past few years, I began to see my health and quality of life decline rapidly. Each visit to my primary doctor would ultimately result in new bad lab results, new health issues, and new prescribed medication to add to the list. I was in chronic debilitating pain, facing mental health issues and ultimately just living life from the sidelines, always watching and never participating. Finally, I said enough is enough! I dove into researching weight loss options. I began looking at sleeve surgery as an option and was reading everything I could get my hands on about it. I started asking around about doctors that specialize in bariatric surgery and one name kept coming up repeatedly, St Louis Bariatrics and Dr. Snow. Anyone I talked to that had gone through this office gave glowing reviews and amazing testimonials of success.
At 265 lbs I picked up the phone and made the call. I was terrified but after my first consultation with Dr. Snow most of my fears were discussed and alleviated and with Dr. Snow's help, I decided to go for it, to take the giant step to get my health and life back on track. On Feb 27, 2020, I was rolled into an operating room and the very capable hands of Dr. Snow. It was the first day of my new life.
My surgery went well with zero side effects or complications. I jumped in with both feet and I followed the program to the letter. Now, a year later I have lost 135 pounds and have never felt better! I am even healthier than I was in high school and weigh less than it has said I did on my driver's license the past 25 years!
The weight loss has been great but what has happened off of the scale is the real success! I have lost 135 lbs, 10 pants sizes, 12 medications, chronic pain, anxiety sweats, and fear of being in public. But more importantly, I have gained the ability to ride roller coasters with my grandkids, the endurance to go river rafting with friends, and enjoyment of working out, the capability of going on long trips and vacations, a new zest for life, a love of clothes shopping(haha), and just more of an overall feeling of happiness.
If you are on the fence about this journey then I say just go for it. It wasn't just life-changing for me it was life-giving!! It hasn't been easy but it most definitely has been 100% worth it. St Louis Bariatrics and Dr. Snow could not have made this experience any better.
From Dr. Snow's cheerful bedside manner and his ability to discuss any concerns to Olivia's guidance in the nutritional part of the journey, you could not be in better hands. I would use them again in a heartbeat.